Weekly conversations ...with Rachel Fäth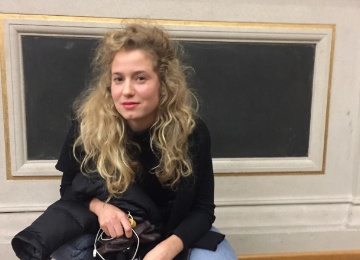 Rachel Fäth (b. 1991 Berlin) currently lives in Munich. For the last few years, she has been exploring how sculpture can be used for creating new aspects of community, and thus its contribution for proposing new ways of living and working. From her interest in social housing projects –– such as the Wiener Gemeindebau or Barbican in London –– and with her studies in Sculpture and Art Pedagogics in Vienna (University of Applied Arts) and Munich (Academy of Fine Arts), her practice develops approaches for the intersection of art and "social togetherness" using conceptual strategies and mediation-oriented art practices. Her material explorations in metal, as well as her drawings, intends to better understand the worlds around her.
Do you have a project (or projects) going on at the moment that you can tell us about?
I have several projects going on. One is designing a tablecloth which I will present at a show in a space called "Florida" (Lothringer 13) in Munich. I will also propose a toast to activate the tablecloth. So I want to work on a little speech as well. Furthermore I have preparations to do for a trip to the states, where I will be researching on sculpture and scale. For my third project I will be working with Vienna based curator Alexandra-Maria Toth. We are planning to organize a curatorial project in Munich, Vienna and Palma de Mallorca, which connects these cities.
Are there any exhibitions that you visited lately that you found to be outstanding or any artists that grab your attention?
Last week I saw the exhibition "Innenleben" at Haus der Kunst in Munich. I really liked how the artists used interiors to create a special narration, something you know but you can't name directly. Also, I liked how they operate with interiors for sculptures like Adriana Varejão did. I also think the NS Dokuzentrum in Munich is interesting though it's a contentious project. But I mean it's productive to have a discussion around.
Even though you are only here for a short period of time, do you have anything to cross off your bucket list regarding Vienna?
In Vienna I want to see the current show at Art Space: Loggia, and the upcoming Ruine at the space Kluckyland, and I want to read the book social dreaming @work.