Weekly conversations ...with Malte Laslo Katthagen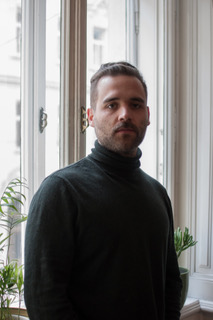 Malte Laslo Katthagen (*1992), currently master's student in Musicology, is a musician and story teller who is deeply inspired by dark romanticism, occult themes, ancient mythology and recent folklore.
He recently moved into one of our studios at Untere Augartenstraße 5, 1020 Vienna
Tell us about a current project that you are working on.
I just finished up the songwriting for two albums for my Black Metal projects Order of Ištar and Ad Victoriam, which are going to be recorded next month. I also started a music label with one of my sisters recently and we are preparing the first release. Apart from the metal world I've started to work on my sound installation 'Narziss'. It is a large pipe with microphones, speakers and mirrors. The individual can experience him/herself in an immediate and unsettling environment to make madness tangible.
Where do you mainly draw your inspiration from at the moment?
I don't have any particular artists who are a steady source of inspiration. I appreciate art that interweaves the underlying web of ancient myths and folklore with the current discourse. As a lifelong city dweller the simple sublimity of nature fascinates me every time. But foremost it is the enthusiasm and energy of my environment that keeps me going.
You moved into one of our studios with two of your colleagues – does your individual artistic expression overlap in any way with each other?
I believe you can find common ground with anyone, but I am especially grateful to share the space with Julia and Elodie. I have the feeling that my rather escapist approach in my works and the fine ability of my two colleagues to process current debates and questions complement one another quite well.