Weekly Conversations… with Malou Solfjeld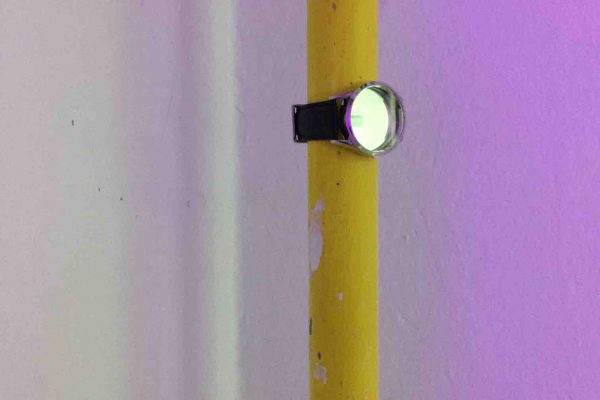 For this weeks' conversation we have (virtually) invited Malou Solfjeld, former Curator in Residence and curator of the exhibition "Stress Rehearsal", which was opened on October 28, 2020, only a few days for before the second lockdown. Nevertheless, we look forward to present the group show soon again to the public.
Due to the current travel restrictions, you were unable to come to Vienna. What was the main challenge to coordinate the exhibition from abroad? And how does it feel to see your concept finally being realized?
I am very happy and grateful that the exhibition succeeded to open 10 months after I started working on my concept for das weisse haus.
Coordinating an exhibition from distance is tricky in many ways, one is that I wasn't able to walk around in the space while orchestrating the distribution of the works, which is something I find quite important in the attempt to resonate with the physical environment. As a curator I also put an honor into the concept of "holding space" for artists, artworks and audience alike, and this was something I struggled quite a bit with lately, not being able to hold space properly for anyone, by only being half-way-there, half-way-here.
Like an Echo (also see the artwork "Echo" by Elisabeth Molin in the exhibition) my voice sent out from Copenhagen seemed to arrive with a delay, or at least, for sure with some sort of displacement. My point of view is that this "delay" is probably caused by a missing vocabulary that does not translate (yet) through the screen but exists only as vibrations and energies between bodies and minds. And being so far away from the team of das weisse haus and the artists, not being able to exchange thoughts and ideas through this language, is a huge lack when trying to create a "Stress Rehearsal", thus adding extra layers of stress to the already existing chaotic state-of-mind.
So, curating "Stress Rehearsal" during the pandemic, without being able to travel, was obviously a challenge, not comparable to any prior experience. However, we made it happen, one way or another. And not being in charge of the exhibition design, and some of the artists being suggested and selected by the team of das weisse haus, also was a gift for me, as I got to know new artists this way. I guess, all I can say is that I am happy we managed, because the topics are urgent and the artists are amazing. I am honored to work with each and everyone of them, and I sincerely hope to meet all of them one day when borders again are passable.
The pandemic did not only interfere your stay as a Curator in Residence at studio das weisse haus, but also the planned opening of the exhibition you curated. How did the pandemic influence your concept and how did you try to react to this life changing happenings?
The concept changed completely. I developed the original concept for my residency exhibition between January and March, from the encounter with the studio artists at das weisse haus and at that time the whole show was site-specifically responding to the temporary habitation of das weisse haus and their nomadic nature combined with the political situation in Vienna.

Inspired by my job at Art2030 at that time, I wanted to shed light on biodiversity and companion species, but then: BOOM! This infamous virus showed up, mutated into becoming deadly, and thus threatened to uproot our entire society as we knew it. In my opinion, all this occurred due to the fact that humans have for way too long been (and still today are) treating the planet not as temporary guests, but as ignorant and arrogant, power abusive "masters" who can do whatever they want, without considering the long-term consequences.
Now that you are back in Copenhagen, how is your everyday life and what are your upcoming projects?
I'm currently working intensely on the online public program I've curated in extension of this "Stress Rehearsal", where we will discuss different topics such as fear, care, m/Otherhood and hydrofeminism.
More physically, locally, and less digitally, I'm working on an exhibition in Copenhagen called "Memoirs of the Abyss – Three ecologies and more", scheduled for May 2021 at Sixtyeight Art Institute. Among the artists I work with here is Enar de Dios Rodriguez who is an amazing Spanish artist researching on sand extraction and deep-sea mining.
Besides this, I am also involved in several writing projects. First of all, I am still working on my book called "Home Is Where The Art Is" initiated from my 3 years in Mallorca at CCA Andratx. For this project, I am trying to get a sense of what "home" actually means, and the lockdown definitely provided a new perspective on things.
Secondly, I am trying to compile a book of texts by curators from all over the world, who participated in "The Curatorial Thing" in Copenhagen in October this year – it was such an incredible group of people and I wish we could gather all their wisdom in one book.
Moreover I am writing texts about the German artist Benedikt Hipp, French artist Camille Claudel and her influence on Ida Retz for a show and publication in Paris. Finally, I'm doing consultancy for a group show in 2022 with a lot of great Danish painters, called Cassandra's Sisters, examining how Cassandra (cursed by Apollon as many women are today cursed by other Apollo types) was probably the first whistleblower in history. With this exhibition, we aim to question the gender gap in the art world and bring prominent female voices on stage to discuss equality, fake news, truth and consequences.
Interview: Juliana Furthner