Weekly Conversations… with Julian Palacz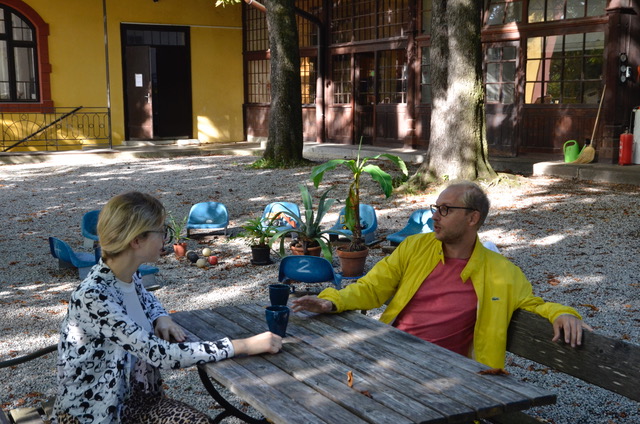 As part of a joint residence program between studio das weisse haus and Künslterhaus Büchsenhausen, Studio Artist Julian Palacz spent two weeks in Innsbruck (17.–30.08.2020).

We talked to him about his stay.
Hi Julian, I hope you've enjoyed your residency at Künstlerhaus Büchsenhausen. Why have you decided for this place?
Even if I was several times in Innsbruck, there was never enough time to explore the city. I am intrigued by the surrounding mountains and the beautiful valley of Inntal. The castle seemed to be a perfect place to be in the city, but not in the center. I was happy to have a great view over Innsbruck from my studio.

What was the focus of your stay? Have you been working on a new project?
I was working on an algorithm for color gradients on LED strips and learning a programming language used in mobile devices for a series of new works. But I also enjoyed the nice weather going hiking on "Nordkette" and swimming in "Sillschlucht".
In the past few months, a lot of residencies had to be cancelled respectively postponed. In general, what is for you the benefit of a residency, even if it's rather short, like the one at Büchsenhausen?
For an artist like me it is very important to have a change of scenery every now and then. This year with the Corona-crisis I was locked in to my apartment much too long. Also meeting other artists and exchanging thoughts is a vital part of my practice. Staying at Schloss Büchsenhausen the same time as Jackie Grassmann was great, because it is nice to have a partner in crime in a foreign town.

Photos: Mirjam Kapelari