Weekly conversations ...with Julia Maria Gruber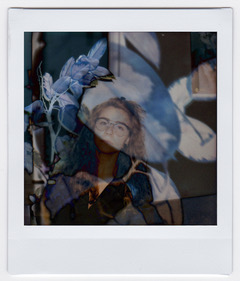 Julia Maria Gruber (*1994) is currently living and working in Vienna, after finishing her bachelor's degree in photography at the Art University in Linz in 2017 and the Friedl Kubelka School of Art Photography in 2018.
She recently moved into one of our studios at Untere Augartenstraße 5, 1020 Vienna.
Tell us about your current artistic expression.
I currently work on a big project about the social structures we spend our youths and early adulthoods in and in which way these affect us in our later lives. The series shifts between the feeling of a jaunty youth, intimacy and the memories and moments we save from time with our loved ones and how these shape our mindsets.
Furthermore I work on the programming of my website to give my past and current projects a platform to interact with each other and build links between social criticism, urban aesthetics, the questioning of the current notion of beauty ideals or the absence of a certain message in my artworks.
Are there people in the art world that you look up to?
Above all, artists like Nan Goldin, Juno Calypso, Alex Gamsu Jenkins or Gaspar Noé inspire me in their provocative way, in which they transcend social boundaries or create new ones and deliberately bring the observer into certain moods and make them think and reflect. Extraordinary aesthetics, imagery and perfectionism down to the last detail from artists like Joanne Leah, David Robinson-Smith or the artist duo Synchrodogs motivate me to think further and constantly question my own artistic process.
You moved into one of our studios with two of your colleagues – do you think your individual practices can benefit from the shared space?
I always feel inspired by the people around me to create new ways of thinking, to give each other new impulses and to be creative together. Consequentially I will definitely benefit from working in a shared space with artists I value so much and it will be easy to built a creative environment together.