Weekly Conversations… with Jackie Grassmann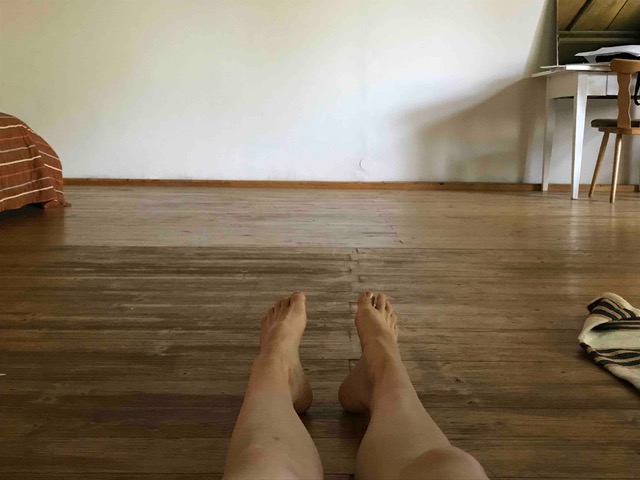 As part of a joint Residence-Program between studio das weisse haus and Künstlerhaus Büchsenhausen, Studio Artist Jackie Grassmann spent two weeks in Innsbruck (17.–30.08.2020).
We talked to her about this Short-term Residency.
You've arrived at Künstlerhaus Büchsenhausen a couple of days ago. What's your first impression of this place?

It's HUGE. At first, I almost felt lost in my room. How interesting, what effect it has on oneself, if one is dedicated a big working space. It's like all your thoughts, ideas and impulses that have been crammed into a corner are let out and distribute in the room. I really enjoy that.
Büchsenhausen is an old castle and really beautiful. All lot of bodies and minds have moved in and out of this room, which makes for a special loaded atmosphere. It seems there is a good permanent community here that grew organically and made the place a welcoming refuge for artists. We already heard from colleagues here that the situation for artists in Tirol is not so easy. Even more amazing that this is such a vivid place for the contemporary art scene.

What's the focus of your stay? Are you working on a new project?

I am working on a project right now that uses Super 8 imagery of the amateur film archive of the Filmmuseum Vienna, private footage from my cell phone camera roll, auto-fictional texts and some additional analog footage.
It all evolves around the topic of touch. It's quite a big project that I am working on for almost a year now. If you work on one project for such a long time, you always come to a point where you're kind of stuck. Changing places and being in a new studio really helped me to approach the material from a fresh angle. Especially in this case, as it's all about haptics.
In the past few months, a lot of residencies had to be cancelled respectively postponed. In general, what is for you the benefit of a residency, even if it's rather short, like the one at Büchsenhausen?
Getting out, and breath! The feeling to be stuck in one place and one situation was quite present the last few months. As this year has been so intense for all of us with a lot of existential angst, I think it is really precious to have the opportunity to just hide away for a few weeks and focus on your work. It's good to gather some energy and come back home with a progressed work but also new capacities to engage politically!


Photos: Jackie Grassmann