Weekly Conversations... with Bárbara Palomino Ruiz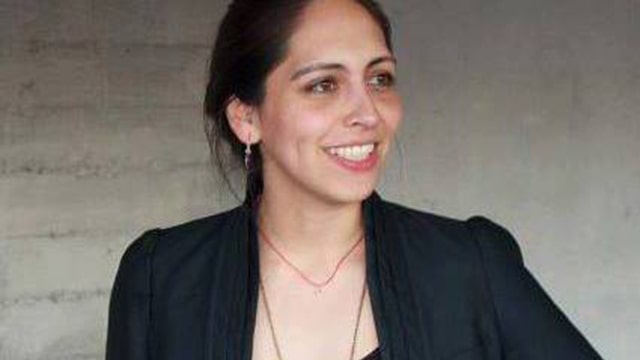 We are pleased to introduce Bárbara Palomino Ruiz, local artist of studio das weisse haus.
Bárbara Palomino Ruiz was born in 1982 in São Paulo, Brazil. She's currently based in Vienna and works between Austria, France and Chile. She holds a diploma from the renowned Le Fresnoy Studio National des Arts Contemporains, France, a BFA in Visual Arts with an emphasis on Textile Arts from the University of Chile, as well as a Bachelor's degree in Social Sciences and Humanities from the University of Chile.
Can you tell us more about the project, you are currently working on in your studio #105 at Hegelgasse, Vienna?
Since I moved into the studio in mid April I focused on finishing the technical adjustments of my interactive multimedia installation Cross Patterns: Paths to be able to return, a work inspired by the polysemy of the sophisticated geometric patterns created by the Shipibo-Konibo, an indigenous group from the Peruvian Amazon. I was invited to show this installation in Personal Structures, a collateral exhibition of the Venice Biennale 2017. It is a complex artwork which involves the synchronization of mechanical and digital media, I was working with a team on a variety of updates of the original software and technical modifications to ensure a stable performance of the installation during the seven months long exhibition in Venice.
What does it mean to you to be part of the exhibition "Personal Structures" in Venice?
It's a collective exhibition organized by GAA Foundation together with the European Cultural Centre as a collateral event of the Biennale. The exhibition takes place in two Palazzos in the centre of Venice, Palazzo Bembo and Palazzo Mora, and puts the work of young, up-and-coming artists with works of internationally established artists into dialogue. I consider it a great opportunity to present Cross Patterns there, because the Biennale attracts a large, international public who will see my work and hopefully engage with it, too. 
I was very glad to be present during the opening week of the exhibition, sharing my research and artistic process with other artists and the public attendant. It was great to see them interact with the work and receive their feedback directly.
What are your expectations for the near future?
I am living and working in Vienna since one and a half years, but during that period I was in an "in between state": arriving, but at the same time going back and forth to present projects like Cross Patterns in countries like France, where I originally developed this installation, and Chile where the gallery that represents my work in Latin America is based. This year and even though the German language is still "a work in progress", I will spend most of my time in Austria to be able to get to know and to exchange with the local art community as well as to promote my work here. In the upcoming months, I will continue to work on a project dealing with the "invention" of culture and traditions, a subject matter which is already present in previous works and
Interviewer for studio das weisse haus: Nadine Hauptmann