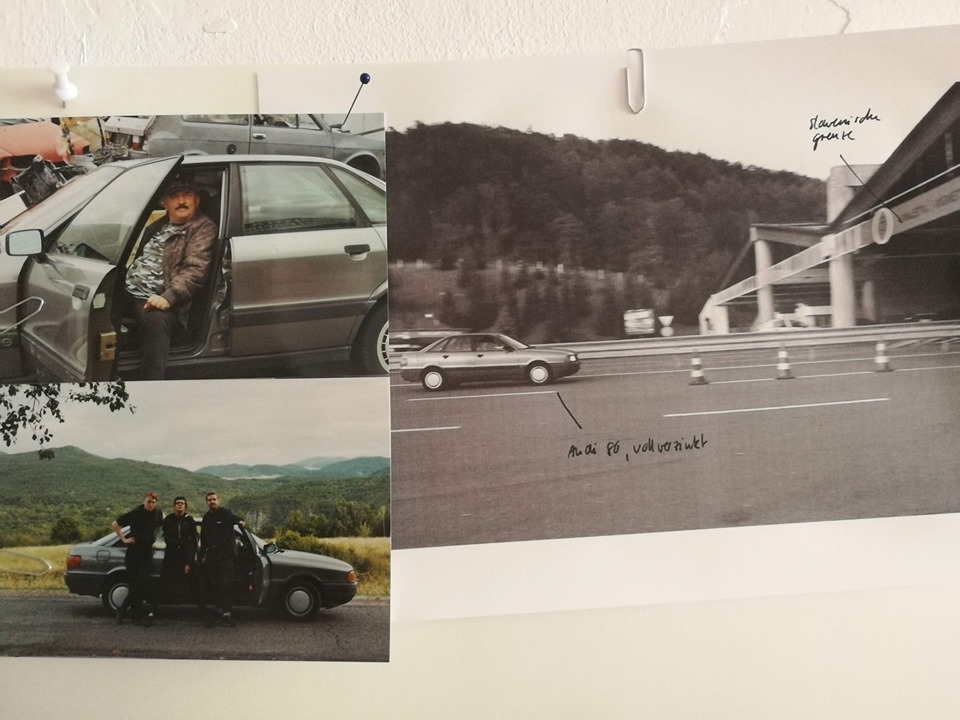 Judith Milz (Artist in Residence)
in conversation with Ralo Mayer (Artist)
Judith Milz will trial and error one possible narrative for the film she has been working on during her residency at studio das weisse haus, using the audience as experimental subjects of the approach.
The film's original material circles around protagonist Vlado Z. and his universe from 1990-93, that is partly reconstructed out of typewrite letters, handwritten notes, ripped out magazine pages et al. Found a few years ago in a box in Karlsruhe (Germany), these findings reveal the following story: It is 1990 and Vlado Z. drives in an Audi 80 S, metallic-silver (1987 model) from Paris to Zagreb. On his way, he got stuck in Karlsruhe and was arrested by the German police due to alleged car fencing. His letters out of jail reveal that his personal life, and this specific story are counteracted by the Yugoslav Wars in the 90ies – Vlado claims his wife and daughters are still living in the Croatian territory being fought over, abducted by Serbs – their fate remains obscure. The paperwork of Vlado Z., spans from France via Germany and Austria to Croatia, touches Sweden and Greece, the International Court of Justice in Den Haag, the European Court of Human Rights in Strasbourg, the duplicated writings of his archive reach friends and enemies, donors and borrowers, in English, German, French and Croatian language.
In her lecture performance, Judith Milz combines the status quo of the movie with one possible narrative of Vlado Z.'s story, questioning the role of Vienna, which is situated exactly in the middle between Karlsruhe and Zagreb. The presentation will be followed by a conversation with artist Ralo Mayer revolving around the research process of the project.