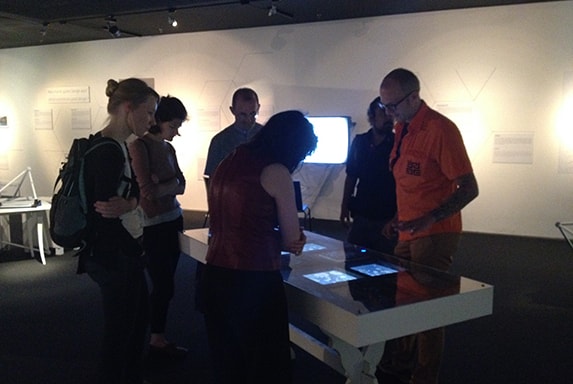 On Tuesday, June 3 2014, we invited our past Artists and Theorist in Residence and local artists to Linz. It was a great opportunity to visit the capital of Upper Austria and see some highlights of its thriving art scene.
First of all, we visited the Ars Electronica Center. We had a very insightful guided tour including a fascinating 3D journey through the solar system at the multipurpose presentation room Deep Space. Many thanks to the team at the Ars Electronica Center!
Afterwards, we met Juliana Herrero, one of our past local artists and University Assistant at the Space and Design Strategies Department at Kunstuniversität Linz. Together with Alexander Beck, head of the department, Juliana showed us around the work spaces and introduced us to some of the students and their current projects.
Finally, we visited LENTOS Kunstmuseum and its permanent exhibition "The Collection. 200 Years of Art: Classic Works, Discoveries and New Positions".