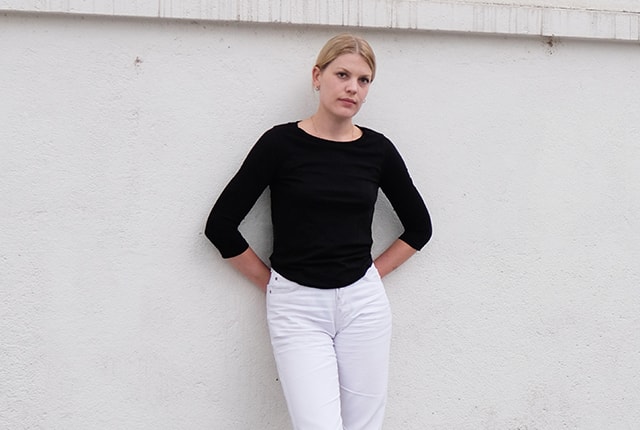 Weekly Conversations… with Alice von Alten
Alice von Alten, based in Vienna, was born in 1987. From 2010 until 2016 she studied at University of applied arts in Vienna and in 2015 at Rietveld Academy in Amsterdam.
You just moved into one of our studios recently, how do you like having your own working space?                                                            While studying I was working at school, which I really appreciated, because of the interaction between all the students, also from different classes. For me now it is important though to have my own private space, but I am really happy having other artist around and the possibility to chat, have a coffee together. It´s a perfect situation, a perfect mix, thank you.
We can see at your website last Photo series "Walls, Fences and Conifers", which is about frontier places. What is it about those places that you want to capture and how do you find them?                          The series I started recently, but after thinking about it quite long already. Most of my childhood I spent in southern Burgenland and therefore very close to the boarder of Hungary and Slovenia.
For me it is special to cross the boarder, because you immediately feel a total change in the landscape, architecture and also in the mentality and vibes. In the series I try to capture architectonical elements, that I find most characteristic for Hungary and that carry very political languages. I have a little background in landscape architecture, so my observations follow design, planning, architecture and my interest in my artwork is pretty fixed to it.
Like the title of the series "walls, fences and conifers", for me these are the dominant elements in the city I visit most in Hungary, elements of boarders, that we create to shelter ourselves. I find it interesting to discover things, like the conifers, that we immediately link to a specific time or politics, in which they were in fashion – in this case plants that evoke a political thought or memories of communism.
Do you already have some new upcoming projects that you're working on?                                                                                                                Currently I am working on a project in Vorarlberg. I will present it in Feldkirch in the first week of August 2018. Together with three friends, that will also present a work. 
We are working in the same field, it´s about "boarders" – in the widest sense, as Vorarlberg is also a frontier land. Our project "Schichten. Mögliche Grenzen." is one of the ten chosen START-Projekte that Kulturperspektiven 2024 is supporting.
My work refers to the river Rhein which is the physical boarder to Switzerland. When I went there to see the site Rhein and Rheindelta, where the river flows into Bodensee, I discovered masses of shells on the beaches. I am interested in the manifestation of feelings and cultural expectations in things, creatures and any other elements of landscapes. What do we feel when we see mountains of shells in Vorarlberg? Which memories and desires become awake? How do we collect these feelings and do we get manipulated by the travel industry, media etc?
For my work I will collect shells and bring them to an exhibition space in Feldkirch, where they gonna be part of an installation for two days. I am referring to Gilles Clement, who is one of the participating artist at Manifesta 12 in Palermo. Here is a quote out of one of his books:
"Der heutige Garten kann sich nicht an die traditionelle Einfriedung halten, er verpflichtet die Nachbarschaft zum Teilen. Die Insekten, Vögel, der Sauerstoff und das Wasser kennen nur einen Raum: die Oberfläche der Erde und die Ausdehnung der Biosphäre; sie überwinden die institutionellen Schranken. Im planetarischen Garten ist jeder Zaun eine Illusion und zeigt eine veraltete Sichtweise der Herrschaft über das Lebendige." (Gilles Clement in Gärten, Landschaft und das Genie der Natur, Berlin 2015, S. 23)
Do we get the chance to see your works exhibited somewhere any time soon?                                                                                                The show in Vorarlberg on the 3rd and 4th of August in Feldkirch.
Interviewer for studio das weisse haus: Bojana Stamenkovic, das weisse haus Graduate 2018